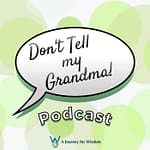 Hi listeners!

Continuing our trend of conversations about relationships and dating, this week we bring back to the table our friends Farron and Ju, representing South Africa and South Korea, to have a deeper conversation about international online dating, relationships, and cultural differences.

We love bringing our friends over to discuss diverse experiences and learn from each others point of view. Our hope is that this conversation opens your perspective and maybe offers you something that you can relate and connect to as we did.

If you have any personal experiences or questions about online dating, or dating in general, please share it with us. We would love to hear from you.
Email us your questions and suggestions to donttellmygrandmapodcast@gmail.com

– Website: www.ajourneyforwisdom.com
– Twitter: twitter.com/ajourney4wisdom
– Instagram: instagram.com/ajourneyforwisdom
– YouTube: Don't Tell my Grandma
– Pinterest: pinterest.com/ajourneyforwisdom
Please consider supporting us on Patreon at patreon.com/donttellmygrandma
Sound effects from zapsplat.com