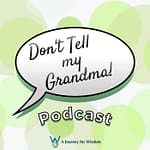 Have you wondered, "Is online dating is a good idea?", "What is a good marriage?", "What online dating app is best for me?" Well, in this episode of the Don't Tell my Grandma Podcast, we will answer our listener's questions and discuss our thoughts on the best dating sites for serious relationships, interracial marriage, and why online dating is good.
Email us your questions and suggestions to donttellmygrandmapodcast@gmail.com
– Website: www.ajourneyforwisdom.com
– Twitter: twitter.com/ajourney4wisdom
– Instagram: instagram.com/ajourneyforwisdom
– YouTube: Don't Tell my Grandma
– Pinterest: pinterest.com/ajourneyforwisdom
If you enjoyed this content and want to see more, please consider supporting us on Patreon at https://patreon.com/donttellmygrandma. It would mean the world to us.
Don't forget to subscribe and like the video!
Life is messy and sometimes gets the best of us. So we break down what it means to be a decent human, find balance in life, and build healthy multicultural relationships with our quirky sense of humor.
Wendy and Juan, a Chinese-American and Dominican duo based in Tokyo; living a bright and borderless life.
Sound effects from zapsplat.com