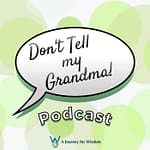 Hey friends!
In this episode, we are joined by our lovely friend Jade, who captivates us with her deft storytelling abilities on how to protect your panties, what's shocking about Japan, what not to do in a taxi, and the ultimate aquarium escapade.
Follow our wonderful friend on her instagram and check out her YouTube channel and blog ajadeabroad.com.
Pull up a seat and get cozy.
Email us your questions and suggestions to donttellmygrandmapodcast@gmail.com
2:00 8th attempt at intro. OMG, what am I doing with my life. Intro.
4:20 What does Jade do in her YouTube Channel
8:00 Underwear thief https://ajadeabroad.com/japanese-underwear-thieves/
11:10 How safe it is for women in Japan?
17:00 Where is Jade from? (Sucky weather in Northern Ireland)
20:10 Why Japan? (tap dance school, experiencing different cultures)
22:20 Why start a YouTube Channel in Japan
23:40 Wendy's tap dancing dreams
24:30 Japan is a great place to try stuff
26:10 Being different
28:30 Adjusting to Japan
35:20 Culture shock (taxi doors, toilets, giant maze stations and painted streets)
41:00 Wendy and Juan's trip to Hokkaido (soup curry, onsen and cold weather)
44:40 Naked with strangers
46:20 Beer museum
51:05 Jade's aquarium horror story