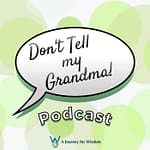 Hey friends!
In this special episode, Juan is joined on the table by his friend Ace Rivera on a personal conversation about creating art, exploring your creativity, and how daily art creation can help your mental health.
Ace is a very talented and multifaceted teacher currently exploring the intricacies of life in Japan. Follow his awesome Instagram at @ace370 and check out his great art.
Pull up a seat and get cozy.
Email us your questions and suggestions to donttellmygrandmapodcast@gmail.com
0:00 Exploring your hobbies in Japan — There is a community for anything!
01:20 Introduction
03:00 What do you do (JET, hobbies, traveling, art)
06:10 Creative outlets (art and draw journals)
16:40 Our relationship with routine
18:40 Working with watercolors
22:30 Getting out of your comfort zone
24:00 Getting better with everyday work
28:00 Meeting the right teacher
37:30 Being black in Japan (racism and making an impact)
44:10 Saying goodbye to friends