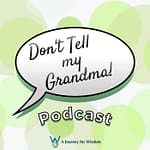 Hey listeners!
In this episode of the Don't Tell my Grandma podcast Wendy and Juan talk about another oddity of Japanese culture, Host Clubs. Juan will do his best to explain to Wendy, and the audience, what Host Clubs are, and what is their appeal.
Our host also talk about life after COVID and how culture and customs have changed because of its widespread impact in daily life.
Finally, Juan will rant a little bit about why upgrading your stuff sucks and how good marketing companies are at making you feel you should.
Email us your questions and suggestions to donttellmygrandmapodcast@gmail.com
– A Journey For Wisdom https://www.ajourneyforwisdom.com
– Twitter https://twitter.com/secrettograndma
– Instagram https://www.instagram.com/dtmg_podcast
Sound effects from https://www.zapsplat.com/