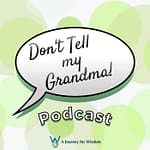 Hey listeners!
In this special episode all about correspondence, we talk letters and loved ones. Let's talk sending love by correspondence.
In this day and age of technology, many of us have given in to the convenience of immediate, dry communication and have forgotten about the gratifying feeling of receiving a personal, hand written piece of love from another human.
Nevertheless, we have tried our best to stay in touch with this traditional and more intimate way of communication and have found that it has strengthen and enriched our relationships with our loved ones.
Here are the books Wendy and Juan mentioned on this episode:
Long Walk to Freedom: The Autobiography of Nelson Mandela
Born a Crime: Stories from a South African Childhood
Email us your questions and suggestions to donttellmygrandmapodcast@gmail.com
– A Journey For Wisdom https://www.ajourneyforwisdom.com
– Twitter https://twitter.com/secrettograndma
– Instagram https://www.instagram.com/dtmg_podcast
Sound effects from https://www.zapsplat.com/