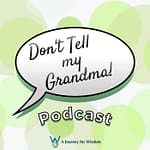 We're wrapping up our first season of DTMG and in this episode, we talk about online dating and reflect on our podcasting journey so far. We are so grateful to our listeners for supporting us and we hope that you continue laughing and learning with us from wherever you're tuning in.
During this session, we also share bits of our past, specifically in the love and romance department.
Hope you enjoy!
– How has our experience doing podcasting
– Appreciating our listeners
– Building a platform to grow
– Creating a record of memories
– Relationships
– How to approach a potential relationship?
– Juan's experience as an introvert building relationships
– Media influence and their role in development
– Wendy's experience
– How hardships make us special
– Dating online
– Bad dates
Email us your questions to donttellmygrandmapodcast@gmail.com