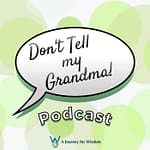 Hi listeners!
The Don't Tell my Grandma Podcast is back! Sorry for the short hiatus last week. Juandy deserved a little break and time to reflect on the accomplishments achieved and the journey ahead.
We have some news and thoughts to share with your, our lovely listeners. Look forward to more short and sweet conversations with the quirky duo you love.
We love you very much.
Email us your questions and suggestions to donttellmygrandmapodcast@gmail.com
– Website: www.ajourneyforwisdom.com
– Twitter: twitter.com/ajourney4wisdom
– Instagram: instagram.com/ajourneyforwisdom
– YouTube: Don't Tell my Grandma
– Pinterest: pinterest.com/ajourneyforwisdom
Please consider supporting us on Patreon at patreon.com/donttellmygrandma
Sound effects from zapsplat.com