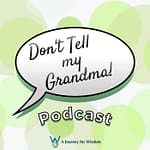 Hey friends!
In this episode Wendy and Juan discuss about Cultural Homelessness, Identity and what are TCK's.
We also talk about the little joys of everyday, flipping tables and why Wendy is a giant.
Pull a seat and get cozy.
1:00 Intro, new branding!
3:40 Cultural Homelessness intro, TCK's, Juan's POV.
11:09 When did you started filling the void?
14:52 Moral compas.
17:23 What identifies you?
19:10 What TCK can do to amend division?
22:00 Wendy's cultural homelessness
23:26 Wendy is a giant in Japan!
24:04 Growing up in Arizona.
26:22 Juan's experience being different.
26:44 What is cultural homelessness?
31:40 Has asian culture help Wendy cope?
39:25 Parents relationship with TCK's.
47:05 The struggle makes you better.
50:40 What are the little joys you find in your days?
NOTE: The term "third culture kid" was first coined by researchers John and Ruth Useem in the 1950s.
To read more go here.
Email us your questions and suggestions at donttellmygrandmapodcast@gmail.com