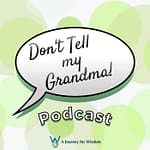 Hey friends!
In this episode Wendy and Juan prepare themselves for a well deserved escape from Tokyo to celebrate a big step in their lives. Marriage.
As August keeps heating up and our lives keep changing we want to keep evolving our show and have fun with our listeners.
Pull a seat and get cozy.
Email us your questions and suggestions to donttellmygrandmapodcast@gmail.com