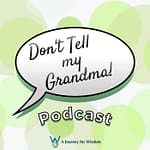 Hi listeners!
In this week's episode, Wendy and Juan will revisit their childhood and talk about their experiences with video games, gaming culture, and playing games as an adult.
What is your favorite video game?
Do you still play games as an adult?
What is your fondest memory of a video game?
Let us know!
Email us your questions and suggestions to donttellmygrandmapodcast@gmail.com
Sound effects from zapsplat.com