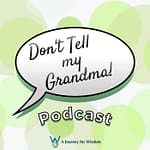 Hi listeners!
Please pull up a chair as we share our thoughts about self-worth and how our past experiences and environments have shaped the way we feel about ourselves. Praise isn't easy to accept, especially when we don't believe in the positive feedback we receive. Juan and Wendy discuss the reasoning behind this and how we can learn to give more constructive feedback to others.
We'd be over the moon if you could provide us with some feedback by writing a podcast review!
The book we mentioned and highly recommend is Educated by Tara Westover.
Email us your questions and suggestions to donttellmygrandmapodcast@gmail.com
Sound effects from zapsplat.com