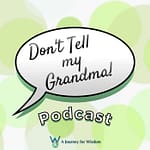 We know that showing up can be difficult, especially on trying days. But having something that is important to you and showing up to do it is always a challenge worth taking. We know how difficult it can be to exercise discipline and consistency, heck we have our doubts every day. So, we try to remind ourselves that getting to the start line is the hardest step. Life is never going to be easy; It was never meant to be, but that is what makes it fulfilling.
In this episode, we open up about our struggles and hiccups pushing past the obstacles that arise when trying to make something for ourselves. And hey, we might even inspire one other person along the way! That is all that you really need to make an impact in the world.
Wendy has a blog! It's all about the ADHD experience from a woman's perspective. Check it out. https://www.QueenQuirks.com.
Email us your questions and suggestions to donttellmygrandmapodcast@gmail.com
– Website: www.ajourneyforwisdom.com
– Twitter: twitter.com/ajourney4wisdom
– Instagram: instagram.com/ajourneyforwisdom
– YouTube: Don't Tell my Grandma
– Pinterest: pinterest.com/ajourneyforwisdom
Please consider supporting us on Patreon at patreon.com/donttellmygrandma
Sound effects from zapsplat.com