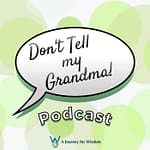 Hi listeners!
As we bring this season to a conclusion, we take a minute to reminisce on our progress on this journey of discovery and growth. We have struggled so much. We have learned so much more. But more importantly, we can't wait for what's to come.
Join us next time on season three of the Don't Tell my Grandma podcast.
Let the fun continue!
P.S.: Stay until the end for a little surprise. 🙂
Email us your questions and suggestions to donttellmygrandmapodcast@gmail.com
Please consider supporting us on Patreon at patreon.com/donttellmygrandma 
Sound effects from zapsplat.com