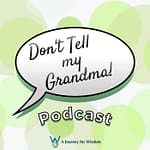 Hey listeners!
Have you considered being on a podcast or even hosting your own? Maybe you've pondered what actually goes into starting your own podcast. In this episode, we break it down for you based on our personal experiences. You may be surprised with how little equipment and money it requires.
We believe that there's no better time than now to get started.
Here's what we're using:
* Two mics (Behringer XM 8500)
* Two mic stands
* Two XLR cables
* Two shock mounts
* Mixer (TASCAM iXR)
* iPad or phone
* Two funny hosts!
Email us your questions and suggestions to donttellmygrandmapodcast@gmail.com
– A Journey For Wisdom https://www.ajourneyforwisdom.com
– Twitter https://twitter.com/secrettograndma
– Instagram https://www.instagram.com/dtmg_podcast
Sound effects from https://www.zapsplat.com/