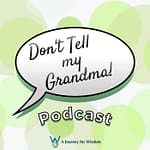 Join Juan and Wendy's Unscripted Adventures as they dive into a whirlwind of topics, from personal life updates to exploring the world of pop culture and real estate! 
In this episode, they'll share their thoughts on the last episode of the critically acclaimed TV series, "The Last Of Us," and how it impacted their viewing experience. As they embark on a journey into the housing market, listen in on their research, discoveries, and insights as they navigate the complex world of real estate.
Tune in for a casual, informative, and entertaining conversation that's bound to make you feel like you're catching up with friends!
Email us your questions and suggestions to donttellmygrandmapodcast@gmail.com
– Website: www.ajourneyforwisdom.com
– YouTube: Don't Tell my Grandma
Please consider supporting us on Patreon at patreon.com/donttellmygrandma
Sound effects from zapsplat.com