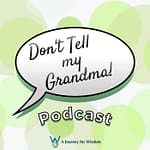 We are back!
In this captivating episode, join Juan and Wendy as they share their life updates on moving to the US and starting a new chapter with new homes, jobs, and perspectives. They discuss the stark differences they've experienced and their journey towards finding what truly makes them happy.
Juan and Wendy also delve into the content that has inspired them lately – from SlowGrowth's, Akta's, and Mark Manson's newsletters to Cassey Ho's personal trainer journey – and how these influencers have encouraged them to reflect and pursue their own passions.
Listen in as they explore the importance of being honest with oneself, letting go of distracting aspirations, and the excitement of working for themselves. This episode is a must-listen for anyone looking to reignite their passion and take action towards a fulfilling life.
Don't miss this heartfelt conversation about embracing change and pursuing personal happiness.
Email us your questions and suggestions to donttellmygrandmapodcast@gmail.com
– Website: www.ajourneyforwisdom.com
– YouTube: Don't Tell my Grandma
Please consider supporting us on Patreon at patreon.com/donttellmygrandma
Sound effects from zapsplat.com