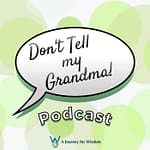 Hey listeners!
Today we are talking mission, content, and feedback.
It has been more than a year since we started our adventure —Woho!. We couldn't be more proud of what we have accomplished so far. Even though the journey has been challenging, we have learned a lot about the process of content creation. More importantly, we have learned more about who we are, our values, and what we have to offer.
We always want to make sure that the content we produce aligns with our vision. That same vision we had when we decided to take on this challenge of becoming content creators and helping others find their identity, get empowered, and have an impact. So we want you to participate in evolving our mission, goals, and content.
Email us your questions and suggestions to donttellmygrandmapodcast@gmail.com
– Website https://www.ajourneyforwisdom.com
– Twitter https://twitter.com/secrettograndma
– Instagram https://www.instagram.com/dtmg_podcast
Sound effects from https://www.zapsplat.com/